1000th Holland and Barrett store
At a time when high street stores are still at risk of closure following the turbulent economic climate of recent years, what is Holland & Barrett's secret?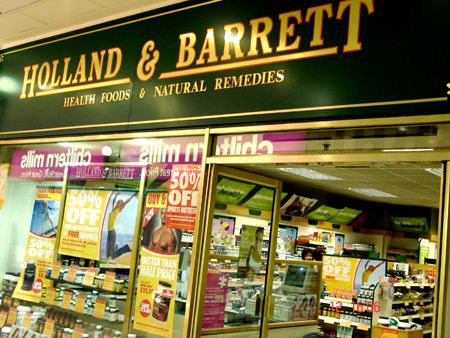 The Trafford Centre, Manchester became home to their 1000th store this month.
Must Try Now
I'm sure we've all done it, read an article or blog about the latest 'life enhancing' product, and gone straight down to the shop to buy it. If it's a health product then it's likely that Holland & Barrett will stock it. I would guess that many of us are guilty of using this product for about 3 days before we forget about it or move on to the next great idea that should change our lives. I don't mock this, I love to embrace and trial a new craze;- with 1000 stores under its belt it is clear that Holland and Barrett has a much more substantial customer base. This decade has seen a healthier living trend feature prominently; are people substituting inconvenient special diets for products that aim to produce similar results but that work within people's lifestyle rather than requiring a complete overhaul?
Dates for the Diary
The increasing popularity of Holland & Barrett ties in with the rising profile of self help and support groups for people with various conditions. February brought us Lactose Intolerance awareness month, April Irritable Bowel Syndrome awareness month and May Coeliac awareness month.
What's On Offer
Not only is one thousand stores a milestone but with this accomplishment it also brings a new concept for the chain. On entering the Trafford Centre store, it strikes me how easy it is to forget how many different categories Holland & Barrett stock. There is a tempting display stacked with packets of yoghurt and chocolate covered fruits and nuts merging into a pick and mix section which allows you to sample more variety. And of course the choice of vitamins and minerals is vast (five times as many people now take vitamins and minerals compared with in the 1980s). Deeper into the store you find the beauty section- organic shampoo/conditioner and a full range of beauty products- suitable for vegetarians and vegans. Serious sporting customers are catered for a big choice of sports nutrition products. The tea section with its loose tea out on display available to smell is a great feature to aid customers with their choice of tea purchase. The chilled and freezer section is filled with vegetarian and vegan friendly foods. This is a great store for customers with specific dietary needs as products are all in one place avoiding the need to search through supermarket cabinets. Another new feature is the oils and vinegars on display in large glass dispensers, once your choice is made you can fill a jar or bottle with your selected product. The glassware is reusable making it eco-friendly.
A reason to keep your 1p coins
The 'penny sale' (buy certain products and get other products for 1p) is a great way to get customers to try different products. The 'Rewards for Life' loyalty card offers 4 points per pound you spend, matching the Boots advantage card. Friendly staff and a fresh and bright impression make it easy to shop. Generous spaces around the tills avoid that crowded feeling when paying and seeing your purchases ringing through on a screen allows you to check them as you go.
Holland and Barrett is the perfect choice for people with alternative lifestyles but it is also the place where regular shoppers know they will get good quality supplements no matter how unusual. With access to so many high street stores you can guarantee you will not have to go far to try out that must-have product you read about today.