This Veggie Pret was a fun way to get feedback and comments. The root of this (dare I say it) 'concept' is to act as inspiration for more innovation at Pret for the future and create tastier vegetarian food that is a tempting alternative for customers.
The CEO of Pret A Manger, Clive Schlee, announced this year that, "sales of our vegetarian sandwiches and salads have grown 12.5% in the last six months." This has stimulated Pret A Manger to consider the idea of opening a vegetarian only shop.
Going Green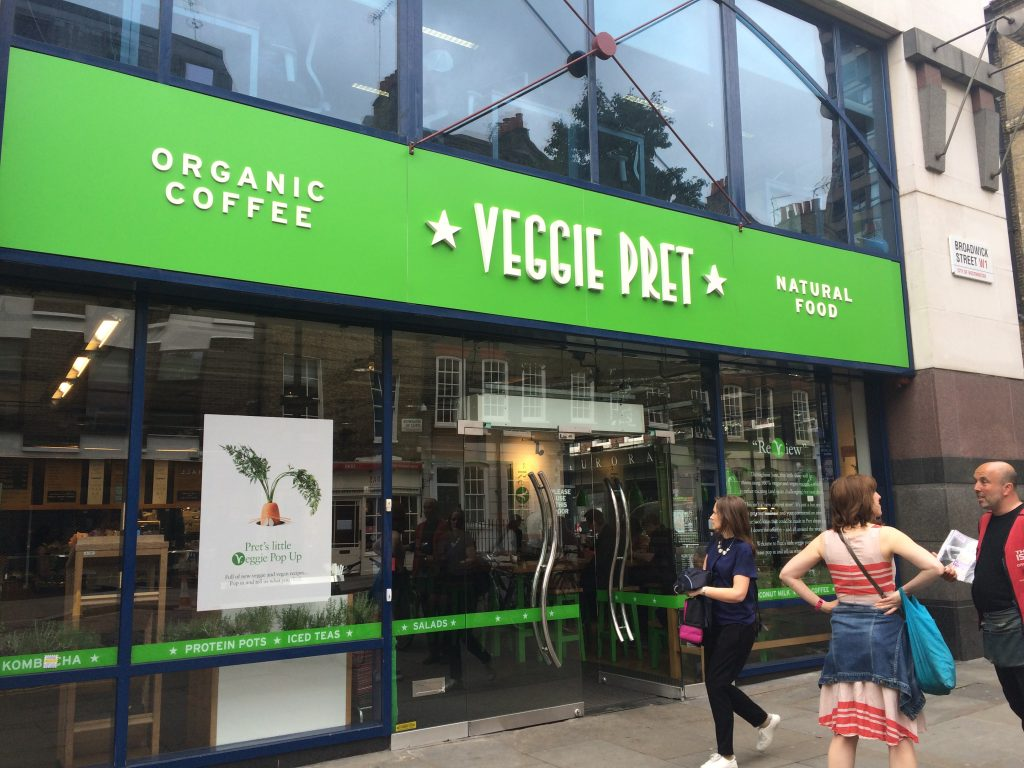 From the sign on the outside to the plastic cutlery inside Pret have gone out of their way to clearly distinguish this Pret as a vegetarian haven, green is the colour. Strikingly different to the standard red Pret. (Does red mean meat?)
In this day and age why does it need to be stressed that a restaurant or store is veggie only? I can see from a vegetarian's point of view it's good to be guaranteed that the product through from preparation to consumption is meat-free and that pre made veggie meals are becoming more interesting and varied. But surely the 'must eat meat with every meal' is becoming a more rare demand. The increase in awareness and recipes with falafel and halloumi are a driving force of the veggie trend. Why can there not be a happy medium of vegetarian delights and meaty meals under one roof? Rather than separation which could be perceived as a choice of either veggie or meat, what about the in between? In a regular Pret why not have samples available of the vegetarian alternatives in an attempt to convert even the Chicken Caesar and Bacon baguette lover or meat free Mondays which are popping up more regularly in restaurants across the country?
A Happy Compromise
Growing food for the world's ever increasing population is causing an increase of greenhouse gas emissions which cause global warming. Vegetarianism could cut food-related emission by 63%. I'm not here to preach, and a lot of us love a 'cheeky' Nando's and wouldn't be willing to give this up, I eat meat but I also eat a considerable number of vegetarian meals. I'm not so naïve as to think vegetarianism would solve all issues and farming is a considerable industry sector in the UK and we need to support that otherwise there are other knock on effects. But if we all replaced a few meals a week where we would normally have meat with a veggie inspired dish this could counteract the effect of the growing global population and be a happy medium with a healthy lifestyle.
Hit the Spot or Lost the Plot
In the trial store was a board you could leave a marker and your comment card on either 'Hit the Spot' or 'Lost the Plot'. The markers were heavily dominating the 'Hit the Spot' half, I can't help but feel this is not that much of a surprise, would you go into a vegetarian only restaurant if you weren't open to vegetarian meals.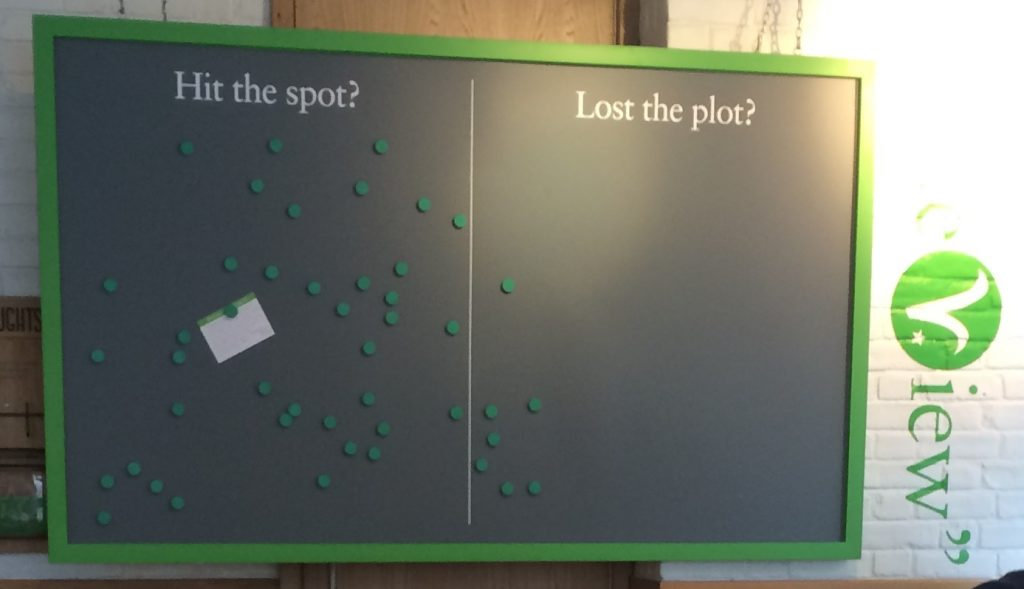 While I was in there on a Wednesday morning, there was a constant stream of customers purchasing their coffee fix, this doesn't matters whether you drink it in a veggie Pret 'green cup' or a traditional Pret 'red cup', does the coffee drinker really notice, is it just perhaps a part of a convenient daily routine. There was a breadth of choice that would peak anyone's intrigue; from dairy-free bircher muesli and veggie brioche (which was my selected item) for breakfast to beets, squash & feta superbowl, courgetti veggie pot and falafel mezze for lunch. Not forgetting the sweet treats of vegan coconut yoghurt pot and raw fruity seed bar, and vegetarian carrot cake, cookies and muffins to name a few of the range on offer. There really is something for everyone, as they said it's not just for veggies.
Awareness
Healthy eating, homemade scratch cooking and celebrities (for example Fearne Cotton who just released a cook book) crossing over as chefs and vice versa we are, even if unknowingly, become more aware of food and what we are eating. In a society that is becoming used to consuming smoothies, kale and quinoa we should be ready for this notion of less meals with meat. The metropolitan aura of London makes it the most willing of anywhere in the UK to be delivered with an array of alternative cuisines and new trends. Having been in Los Angeles two months ago I wonder if that way of conscientious eating and healthy lifestyle with a vegetarian awareness is coming across the pond to stay. Will it filter outside London?
Veggie Pret
I think what Pret has instigated is a great thing and a move in the right direction of where food trends seem to be heading, it would be interesting to hear feedback and reviews they received during June and how Pret will incorporate these from now on. Will a Veggie Pret A Manger open permanently? Or will they take my ReView of uniting vegetarianism and meat eaters under the same roof? Watch this space.