Samantha and I were lucky enough to be in Seattle last Tuesday and visited the future; or did we? Is the Amazon Go store the harbinger? Will the 2016 opening at Blanchard and 7th Avenue Seattle become as storied as the 1916 opening of the planet's first self-service supermarket, a Piggly-Wiggly, at Jefferson Avenue, Memphis?
I don't know.
Before we get carried away with big picture speculation, the location visit basics. The store is a wide, but shallow unit. Maybe 100ft across but only 20ft deep. It occupies the ground, or first for our American readers, floor of a new-build mixed-use scheme. It has ~20 floors of office/resi above. The plate glass storefront reveals the food prep areas not the edge-on aisles you'd expect in a traditional c-store layout. There is a single corner entrance leading directly to two 'tap-in' gates, where a visit begins by scanning 'something' on a mobile device. There are no checkouts. The shopping paradigm is you pick items from the shelf, or select from the prep areas, and walk out, no queue, no checkout, no card presentation. The door team were helpful but not giving too much away. I figure a web of near field communication (NFC) maybe Bluetooth Low Energy (BLE), image processing, shelf-edge sensors, with an integrated mobile wallet are the 'secret sauce'.
The store is not prime retail pitch which is 400 yards to the South along Pine and Pike Street. The unit is embedded in a mix of high-density offices, many being the Southern part of the Amazon campus and new-build prime residential apartments. It is next door to the new Amazon biospheres Seattle, like many global cities, is busily repopulating the downtown, we counted six new high-density mixed-use towers being built within 400 yards of the store. There are no direct retail adjacencies, to the South is a sporadic run of branded and independent take-away and dine-in options, and 200m to the North is what felt like a hugely busy Wholefoods Market downtown store. The Wholefoods boasts a very strong eat-now offer. It was mopping up large volumes of worker and walk-in resi trade, including many Amazon employees, especially from the Northern section of the Amazon campus.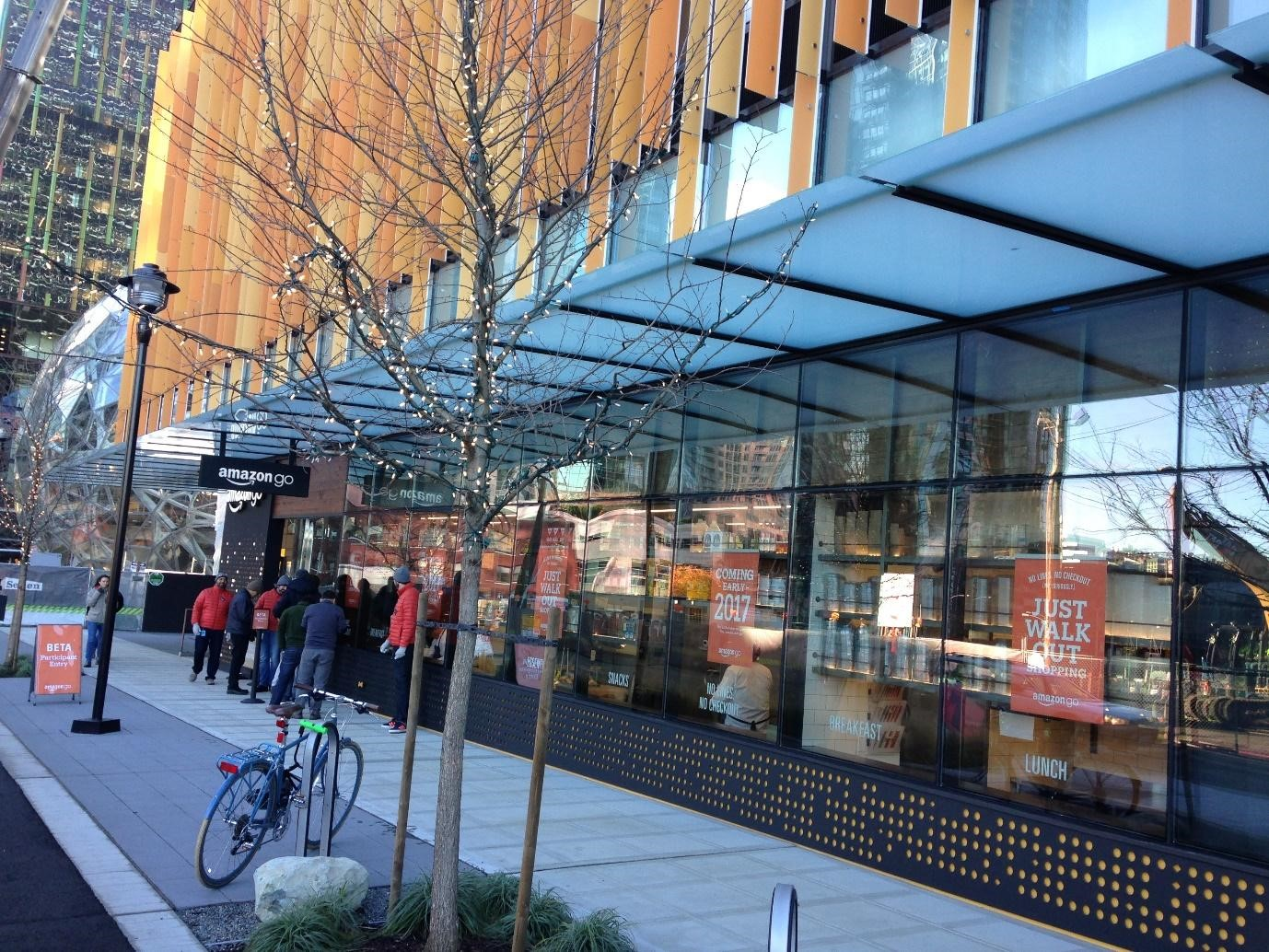 There is no parking, and little transient footfall. This is a classic city centre c-store location. The type of location that, depending on the property deal, Tesco or Sainsbury's would gobble up here in London. Either of them would fill the unit with high-end food-to-go, a stripped-down essentials offer, core meal solutions for eat-tonight, 24/7 security and a high-activity ~15-unit self-scan checkout pod. Amazon seem to be doing exactly that, absent the checkout pod. The meal solutions and food-to-go appeared to have greater focus on freshly prepared and hot food. This is an evolution of the ongoing blurring of 'food retail' with 'food service'. This blurring felt more advanced here in the US than in the UK, but the London Kings Cross Waitrose flagship would be right at home in Seattle. The proximate Wholefoods store has six self-serve aisles of hot/prepared food offering everything from Sushi and pasta through pizza, salads, and deli to baked dish of the day and all-up 'meat and two veg' offers.
Leaked documents earlier this year seemed to suggest Amazon have plans for 2000 Amazon go stores in the US. However Amazon strongly deny this, saying they are in a very early learning phase. Separately, the first Amazon drive-up, a click and collect grocery/GM unit, is nearing completion at 15th Avenue NW, Seattle. This unit is ~8,000 sq. ft. with 500ft of customer area and the remainder storage. There are three further drive-up stores with the 'Project X' moniker within Seattle, and again industry scuttlebutt indicates a potential high-volume roll out across the US, but who really knows?
Did we see the future? Maybe we did, but Clarence Saunders  the creator of that 1916 Memphis Piggly Wiggly got there 60 years before Amazon. Clarence was a genius. He not only invented the modern supermarket, he probably invented its replacement. His Keedozzle, and especially his Foodelectric concepts were almost exactly what Amazon go is doing. Like Charles Babbage with his Difference Engine No 2, Clarence's curse was to have ideas far ahead of the technology available to him.His Foodelectric concept is frighteningly apposite. To quote from the Wiki page, describing his 1946 Foodelectric plans.
"The store operates so automatically that the customer can collect her groceries herself, wrap them and act as her own cashier. It eliminates the checkout crush, cuts overhead expenses, and enables a small staff to handle a tremendous volume… I can handle a $2 million volume with only eight employees.
The central invention was a primitive computer, or "shopping brain" which was loaned the shopper, who then roams among the store's glass-enclosed items. To get a box of noodles, she slips the computer into a slot. The price registers in the computer and the noodle box slides down a chute. When she reaches the cashier, there is no need to wait while the prices of individual items are rung up. She simply pays the total displayed on the computer's windowed forehead"
Clarence got there conceptually a very long time before us. Replace "shopping brain" with "mobile device", "into a slot" with "using BLE", "loaned the shopper" with "got on contract" and "windowed forehead" with "mobile app" and Clarence was gold. This description brings us to the deal maker… or breaker.
Retail, particularly food retail, is brutal. Store operating profit margins are low single digit percents. Labour and property occupancy costs dominate. Logistics, especially the cold-chain make unforgiving demands. Wastage, stock-shrink and mark-downs can, and do, wipe-out profits. In isolation amazon go is not a hail-mary-game-changer. For an office-based lunch-time customer, does removing the queue, scan and card/cash presentation fundamentally change your store choice? I'm not sure it does. Anyhow the technologies to do this will become ubiquitous. It will be available to all retailers in the next few years. Visa, Apple, Vodafone, MasterCard and Google, to name just five multi-hundred-billion-dollar companies are pouring money into making this happen. However, in existing city-centre c-stores the till area can chew up ~25% of a store's public space, space that can be returned to trading or food-prep. Checkout staff cost a lot. Finally, the savings on merchant and intercharge card fees could add a critical couple of percentage points to the gross margin.
So, did we see the future? Not by itself, but I felt we were seeing one critical piece of the puzzle. Amazon go should be seen in the context of Dash, drive-up stores, Prime, Fire, Echo, Alexa and AWS. Whilst all retailers will be able to do till-less shopping, only Amazon are making such large plays across the full spectrum of retail. A series of seamless purchase experiences with data about you and your preferences all flowing into the Amazon data lake.
There is a mighty war looming. The future of retail, finance, entertainment, home services and communications are all in play. The giants of commerce are tooling up. Take your pick from the  IoT,  4IR , AI, self-driving fridges or the connected home. They all talk to the same fundamental truth. The way we buy and take delivery of stuff is changing. Amazon go is a part of that. Buckle up and enjoy the ride; retail times they are a changin', as Clarence Saunders would have pointed out… they always have been.