Aldi in Shanghai
Aldi opened it's first store in China on the 7th June 2019 in Shanghai after it launched an e-commerce platform on Alibaba's Tmall Global in April 2017.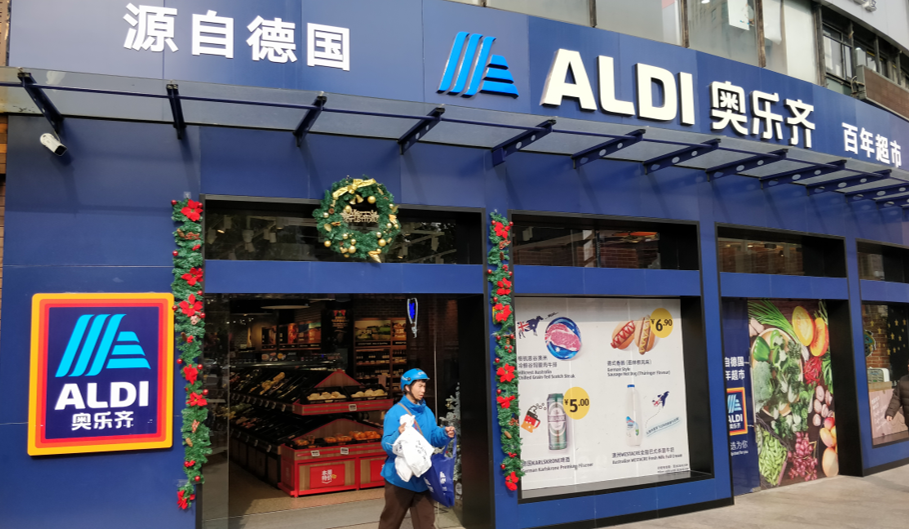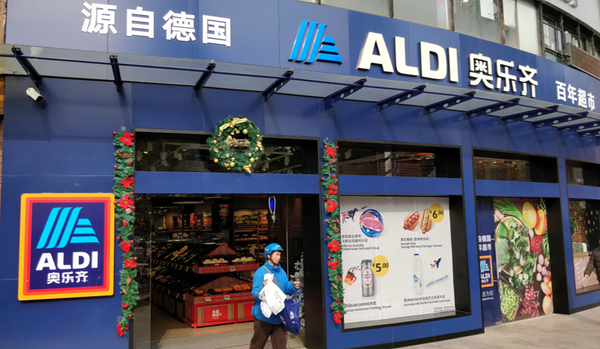 ALDI first entered China as an overseas e-commerce brand and pivoted the brand towards a more premium image. Launching through TMALL's 'Overseas-Flagship-Store' programme in early 2017 ALDI faced limited risk and gained useful insight for their current brick-and-mortar strategy in Shanghai, which kicked off with two stores in summer 2019. Despite clear advantages, including the relative ease of establishing supply chains, a positive brand image, and a large demand for well-priced and quality foreign goods, ALDI's arrival in Shanghai will serve as a litmus test for the modern Chinese retail market. With a current portfolio of 6 stores, Aldi clearly has high hopes in China and if they can convince younger middle-class shoppers to avoid cutting back amid global trade tensions and moderated growth then they may be onto a winning strategy. I decided to check out a couple of stores and see what direction ALDI is heading toward for their entry to China. With their focus on quality, price, speed, and most importantly technology I'm left wondering why nobody has been as successful in offering such a fully integrated and easy shopping experience elsewhere.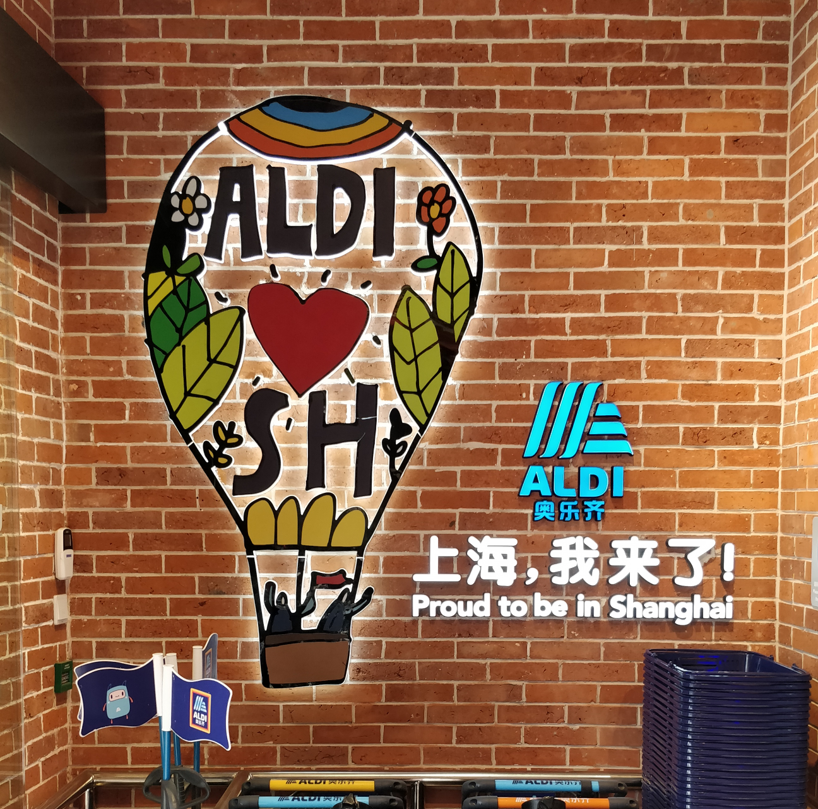 The ALDI China Offer and Experience
In terms of market positioning, the Aldi China proposition could have gone many ways. Visiting their initial Shanghai pilot store in Jing'an and a more recently built store in Putuo puts ALDI's carefully crafted China strategy on full display. The traditional value-oriented core of ALDI remains while a greater focus is clearly being placed on both product quality and provenance. The stores are welcoming and offer certain categories at an incredible value, though the bread-and-butter offerings are the food-to-go, quality meat and veg, and semi-luxurious imported goods.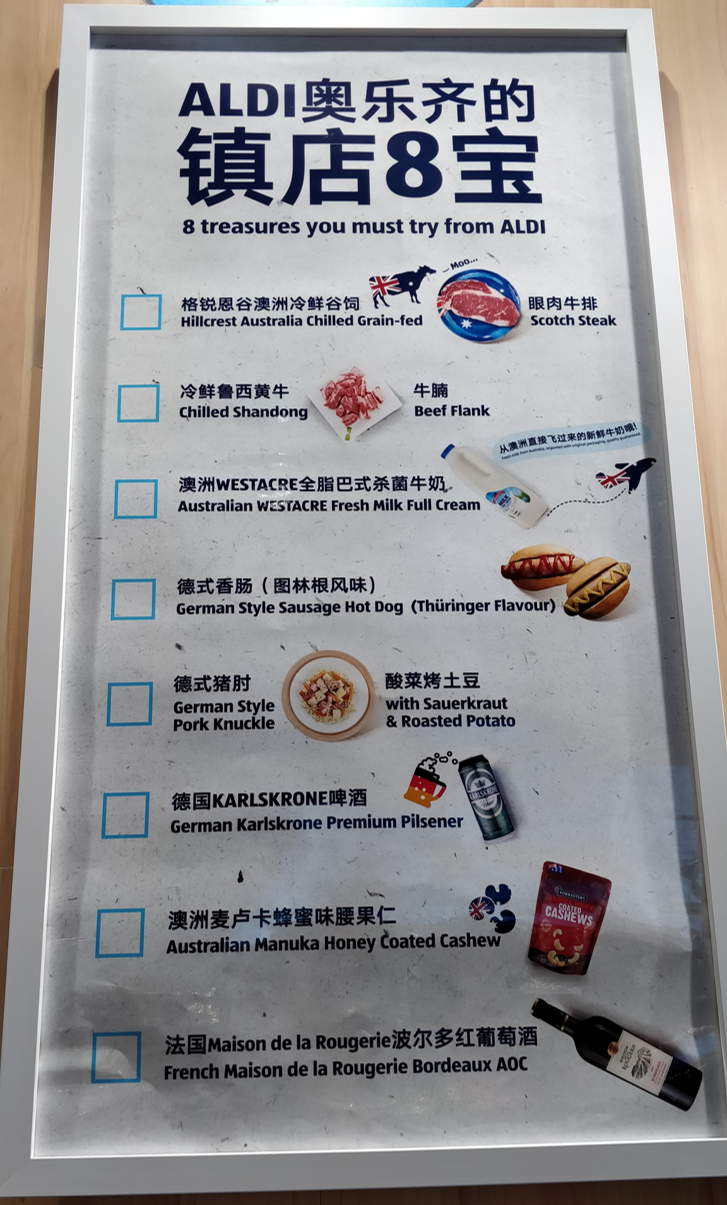 Each store was approximately 5,000sqft, which places them somewhere between a convenience store and a middle-sized supermarket in China. The stores evoke the feeling of a modern Chinese convenience store (think Lawsons or 7-Eleven) with little wasted space and a bright welcoming feel. Venturing slightly further into the store reveals a full range of daily goods, alcohol, snacks, and food-to-go yet in contrast to the C-stores you'll find meat, dairy, vegetables, and frozen goods. On prominent display are a "hand-picked for you" cosmopolitan assortment of products including fresh Australian milk, German-style hotdogs, Shandong beef and Bordeaux wine.

Surprisingly, ALDI carries a single brand of mineral water in-store. The packaging is simple and elegant, yet the price is especially competitive, with a 500-ml bottle costing just one yuan. For comparison, the usual price stands at two to three yuan in other supermarkets. Targeting such daily necessities is a great way to lock-in cost-conscious shoppers and then tempt them with sushi, pretzels, or a hot baozi food-to-go product or a more indulgent import.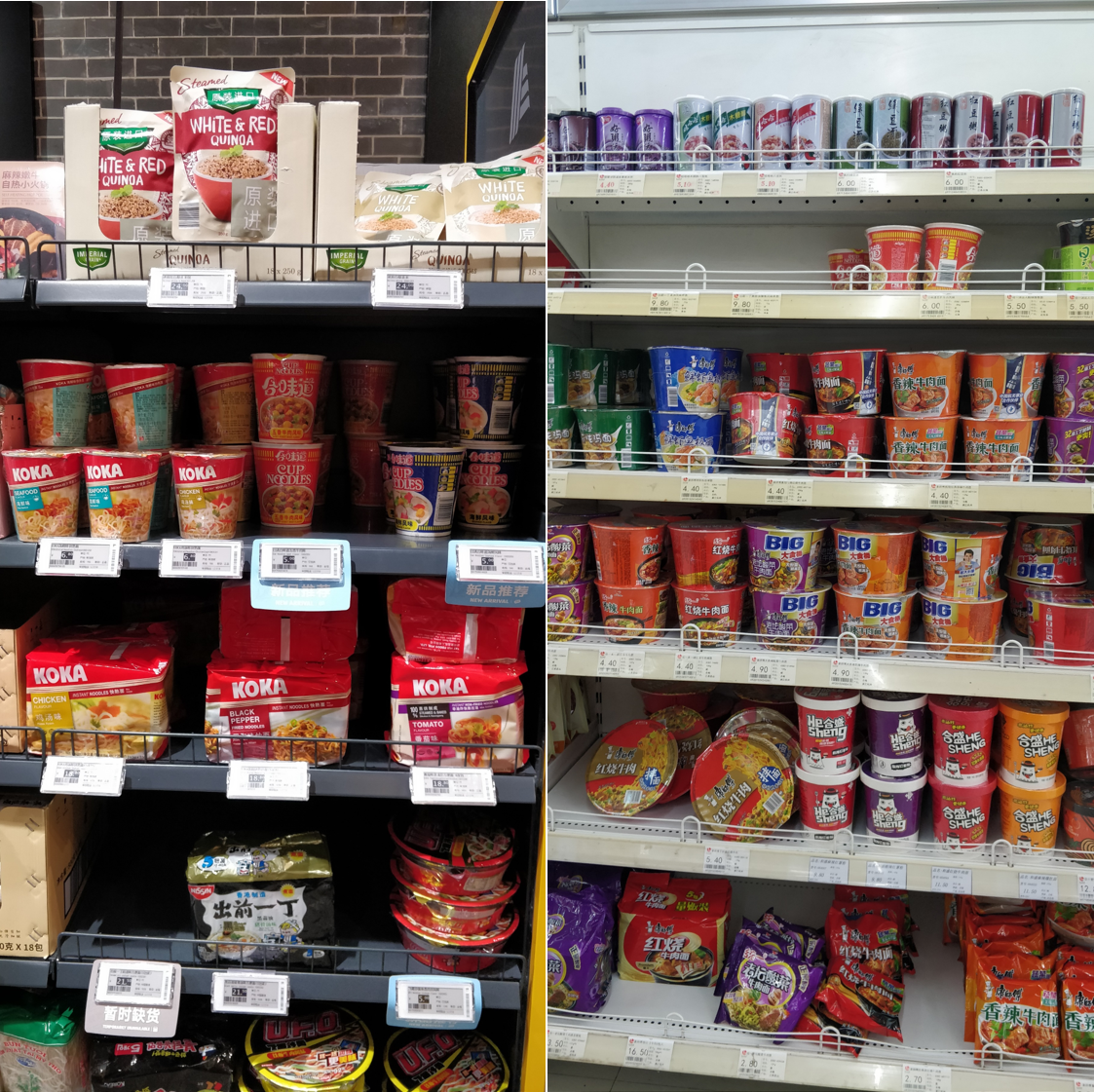 In a similar fashion, there was a relatively low variety of instant-noodles in contrast to the abundant choice ordinary found at a Chinese supermarket. This further evidences ALDI's optimisation in product selection in contrast to the mixed bag approach (没有鱼目混珠). Given that floorspace will always continue to demand a premium in 1sttier Chinese cities focusing on productivity earlier is a positive sign.
Target Customer
ALDI is attempting to become a community-hub as evidenced by the location of their first two stores. One located within a sports centre and another directly adjacent a busy subway, education centre and restaurant hub. In addition to this community strategy, ALDI is targeting customer-segments very specifically. Chief among these are young-professionals and office workers, which helps explain the large focus on food-to-go at the front of each store (along with an expanded C-store type café counter).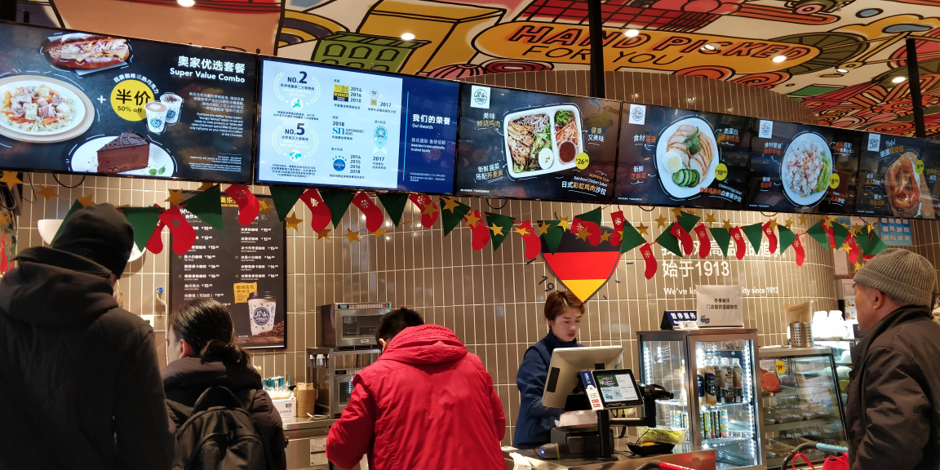 Besides a quick bite, this demographic generally wants a swift shopping experience, high-quality goods, and a pleasant environment. The last two points have already been discussed, to address the first ALDI prominently displays signs informing customers of the ability to use a WeChat mini-program on their phone for self-service shopping.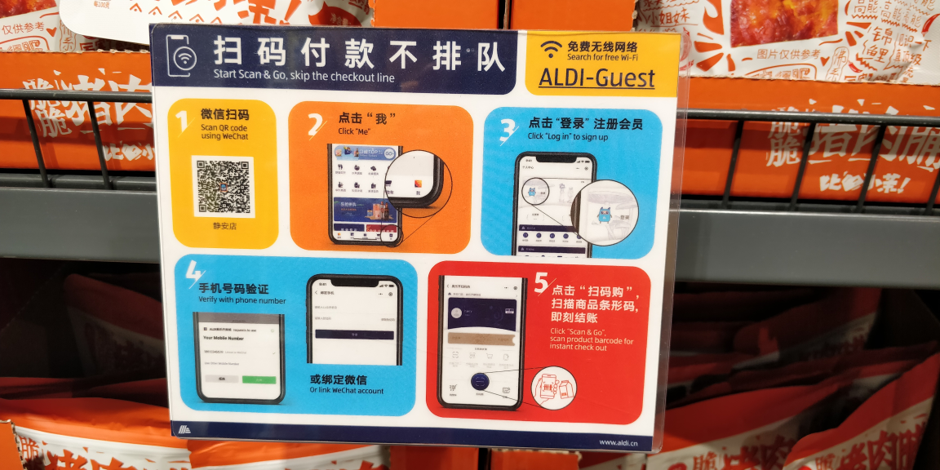 Payment and Home Delivery
The spare number of self-checkouts seemed relatively neglected compared to the high customer volumes observed across two weeks, suggesting that many customers were indeed using the app to easily scan, pay, and walk out of the store. This may leave certain demographics to queue up or battle with the new (to China) self-checkout system (thankfully, no weight checks). Evidencing this, an abundance of help was observed being given (and politely received) from a delightful shop-assistant at a local Chinese supermarket that had just installed self-checkout areas two months prior.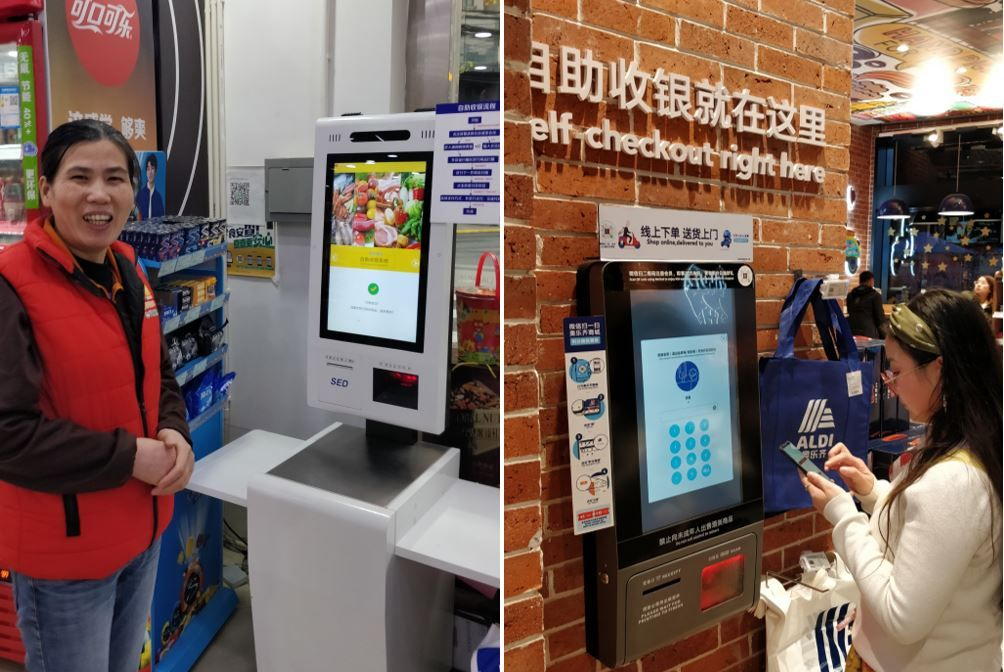 Aldi is using an interesting slogan across their stores and on their bags: handpicked for you (亲选为你). Besides referring to the product selection this phrase somewhat serves to highlight the blue-clad Eleme riders you will occasionally see darting to the back of the store. While most visible to the end customer the rider is actually only responsible for delivery and you can observe ALDI employees walking up and down the aisles selecting online orders, packaging them up and handing over to the rider. So, for customers demanding ultimate convenience, ALDI really is "handpicked".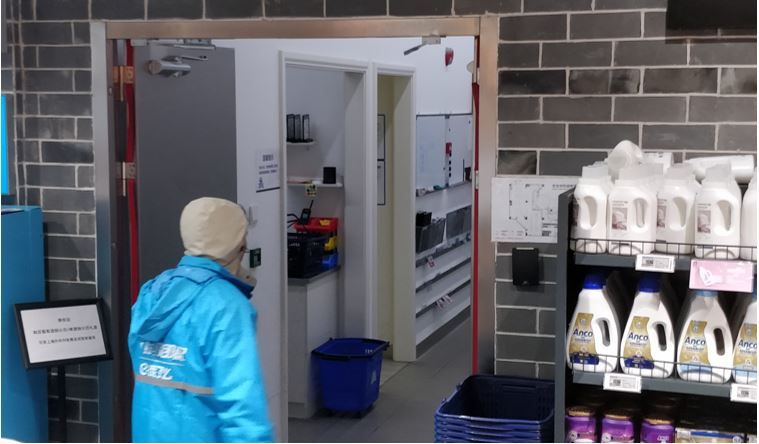 Summary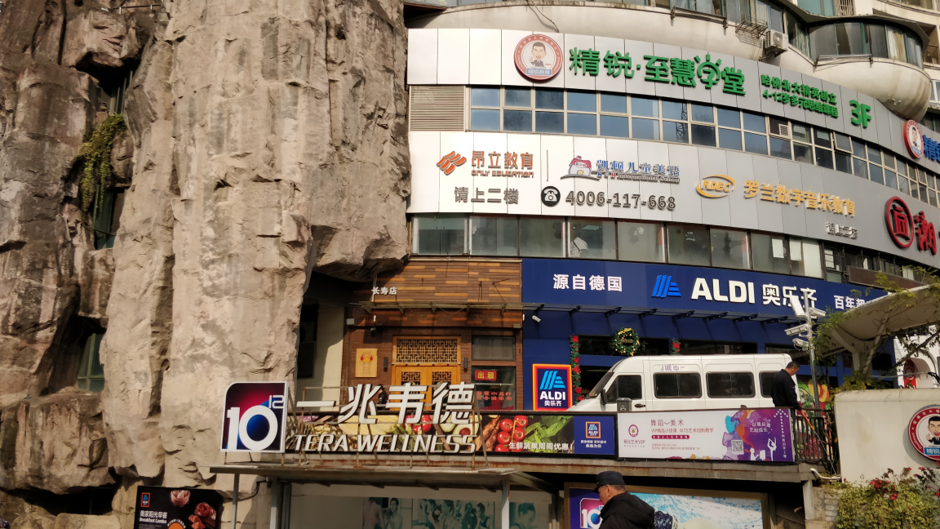 It's fair to say that ALDI China is doing a lot at once. With an altered store format, brand positing, consumer focus, real scan and go, and rapid home-delivery (to mention just a few!) it is nice to see a modern fully integrated shopping experience come together in such well-presented package, and despite the shift in focus it has managed maintain what ALDI is all about. To me, ALDI is about a bargain without compromise and in that regard, the Shanghai stores do not disappoint.