Barnsley – the future looks bright for a town with real heart and soul
Across the country, 2020 has been challenging in a way that none of us expected it to be. Every village, town and city across the country has its own story of how the year has unfolded, and the impacts of COVID-19 have been felt.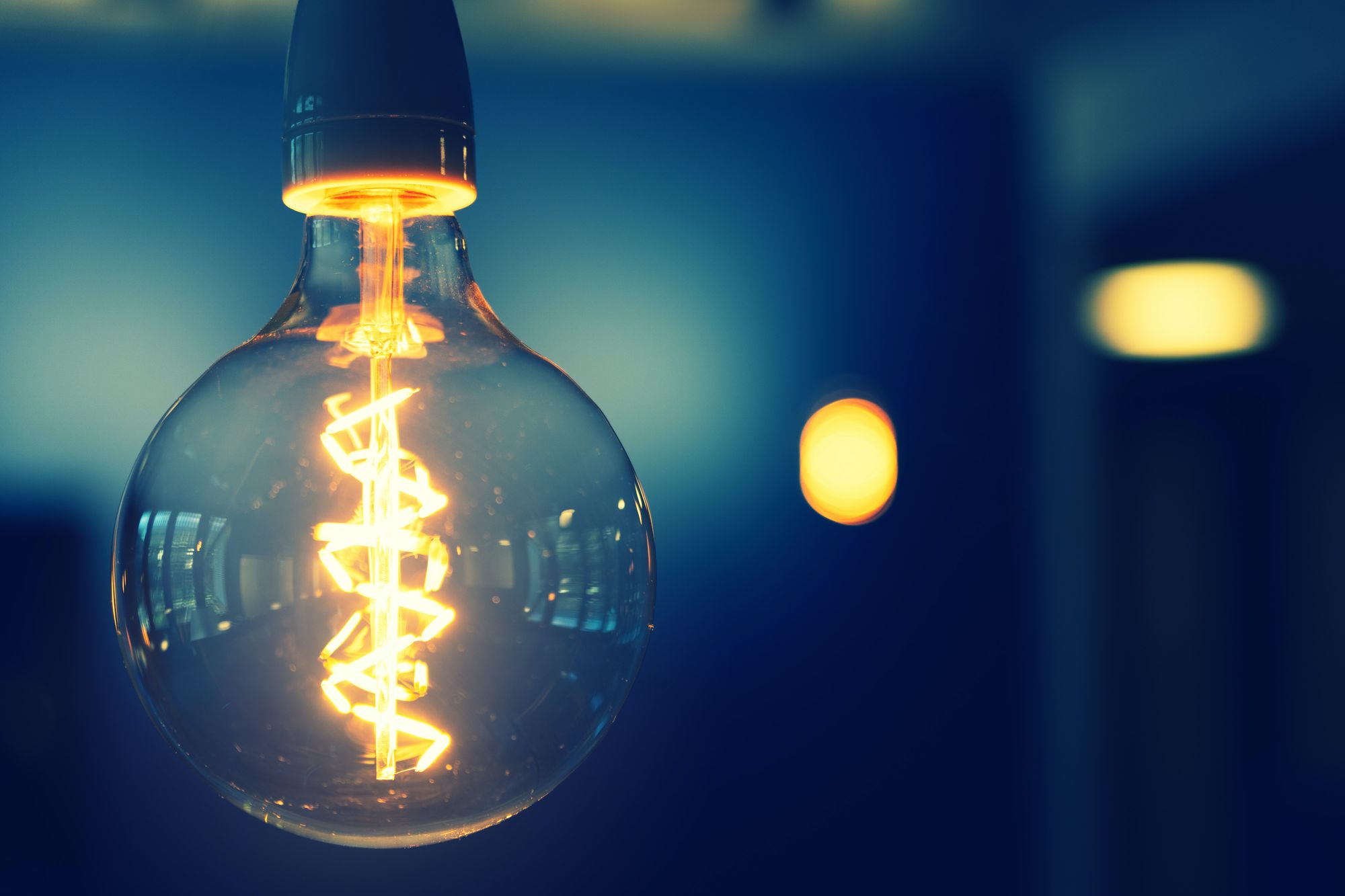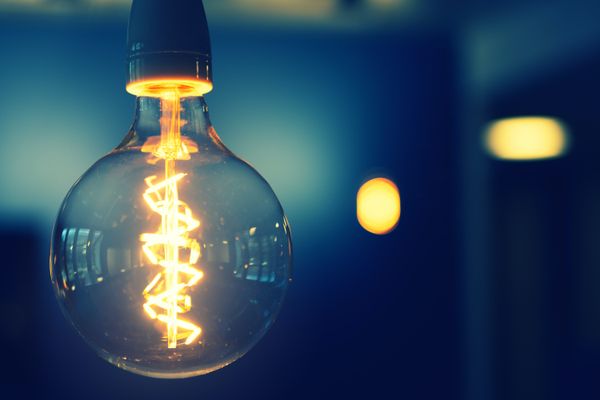 For Barnsley, the story is set against a backdrop of remarkable investment in the town centre that provides ground for optimism that better days still lie ahead, despite the trials of 2020.
Barnsley has seen incredible change in recent years, with a £200m investment plan re-invigorating and transforming the town centre. The investments are aimed at creating a repurposed town centre for the future.
They have already seen the relocation of the historic award-winning Barnsley Markets, named the UK's best indoor market by the National Association of British Market Authorities (NABMA) into its contemporary new home in 2018. Followed by the new state-of-the-art Library @ the Lightbox and popular independent food court Market Kitchen, which both opened their doors in 2019.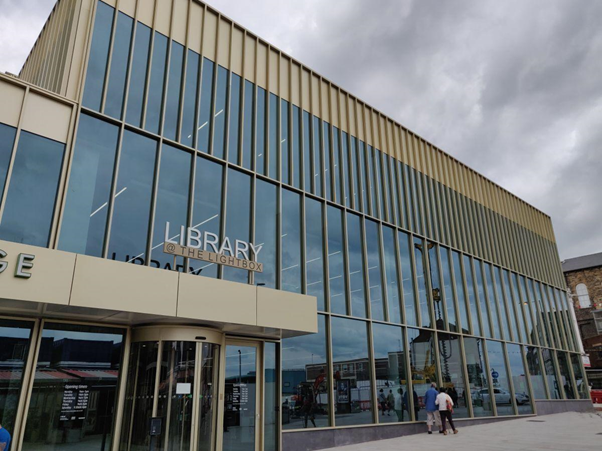 Quoted by the Yorkshire Food Guide as the town's hottest foodie destination, Market Kitchen offers a diverse dining experience and pre-Covid was attracting visitors from neighbouring towns along with a loyal local following.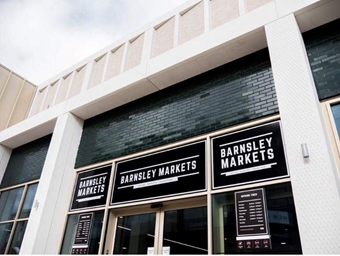 The Glass Works, designed to have a strong family appeal will open in September 2021 and comprises of 25 shops, including Next, TK Maxx, Sports Direct and USC, along with JD Sports which opened its doors earlier this year and Deichmann opening in December 2020.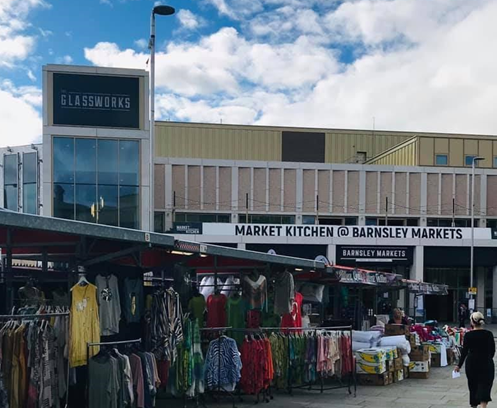 It will also offer two key leisure destinations; Cineworld – an advanced 13-screen multiplex with 4dx technology – and Superbowl UK. These key leisure venues will be complemented by family friendly eateries – including Nando's, Muffin Break and MEET. Coffee Boy and Falco Lounge also part of The Glass Works are already trading.
Geolytix have worked with Barnsley Council to understand the impact of events in 2020 on town centre activity levels, and will continue to do so to understand and measure the initiatives that are being put in place to ensure Barnsley comes back stronger. The use of anonymised mobile device activity from Unacast allows for regular measurement across place and time.
Back in February, activity levels in Barnsley were showing strong and encouraging signs that the investments were yielding positive results: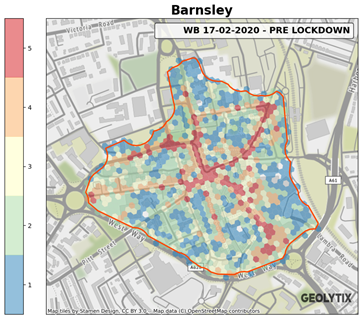 However, the arrival of Lockdown 1 saw activity levels plummet to 15% of baseline levels: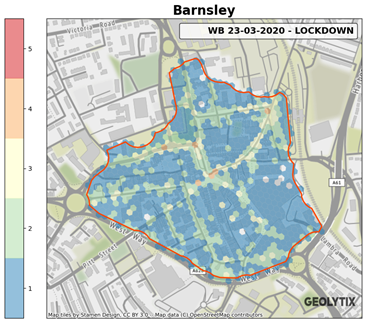 The recovery out of Lockdown was gradual, driven by the phased re-opening of Retail, and then F&B, with Barnsley as with other smaller urban centres outperforming many city centre locations. The strength of the towns independent offer and the diversity of the market were felt to be key drivers behind the initial recovery: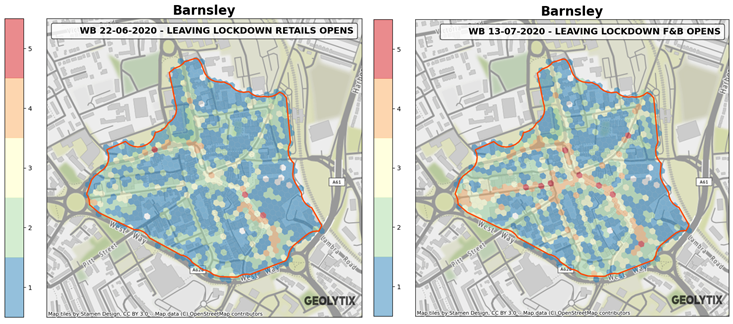 By September, activity levels had stabilised at around half pre-lockdown levels despite a difficult context of public transport constraints and consumer confidence challenges: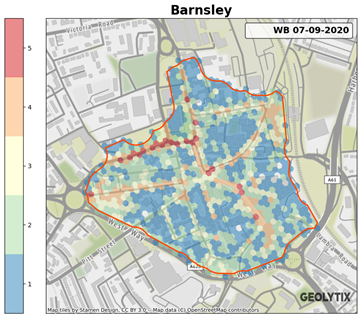 With the Council, retailers and customers alike, adapting to allow shops to remain open safely, the Tier 3 restrictions in Barnsley saw no downward movement in activity levels when introduced on 24th October, although there was a clear impact on F&B operators.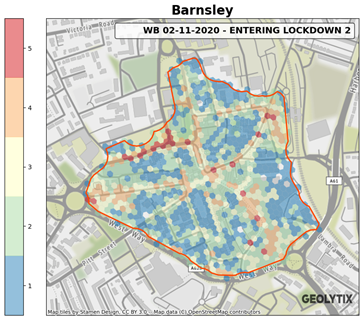 Following hot on the heels of the local Tier 3 lockdown, came National Lockdown 2.0 – and the closure of non-essential retail resulting in a sharp drop – and levels back to those last seen in May: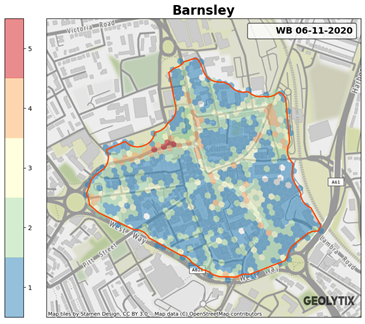 The data and associated intelligence provided by Geolytix plays a key role in shaping local recovery plans.
With hopes of a vaccine promising, a return to normality at some point in 2021, the bold vision for the town centre promises to position Barnsley strongly in the future.

Paul Clifford, Head of Economic Development at Barnsley Council
Ben Purple, Director at Geolytix