With over 800 restaurants in Japan - and a further 250 across Asia, the US and Russia, Marugame Udon has opened its first European store, in London, UK.
Marugame's first UK restaurant is in a prime location on Middlesex street, opposite Eataly and just a stone's throw away from Liverpool Street station. Located within a Food & Beverage 'hub', as identified by one of our data products, Marugame sits alongside a number of well-known restaurants including Nando's, Honest Burger and Franco Manca. Its prominent, triangular, corner unit (previously occupied by Wahacca) straddles both Middlesex and Widegate Street and at 4,000 sq ft with 100 covers it is a decent size. You can't miss it as you turn into Middlesex Street from Bishopsgate.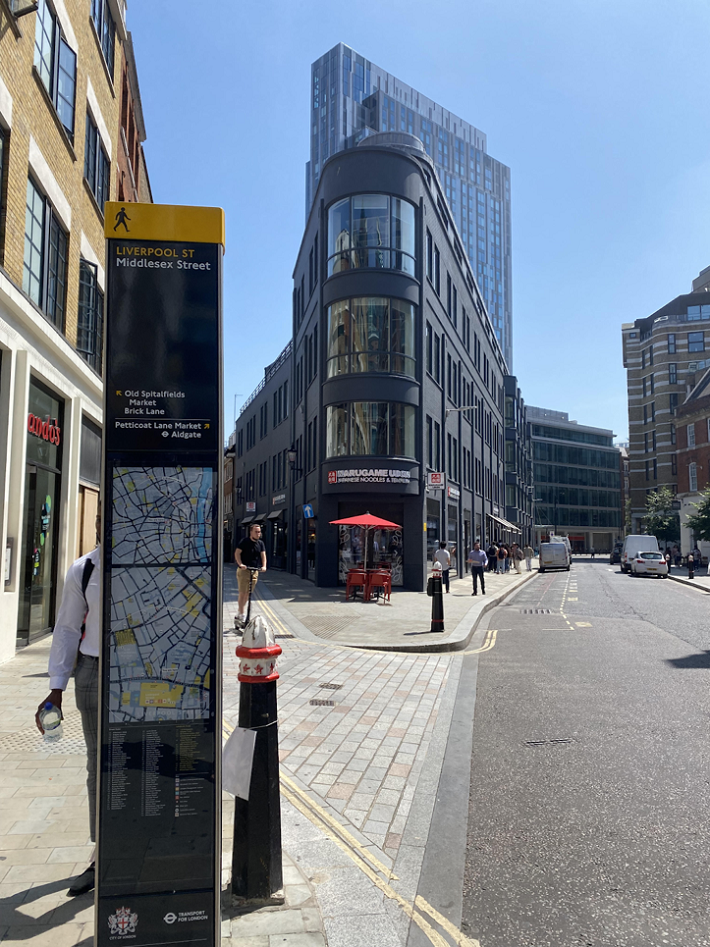 This lively part of Liverpool Street benefits from city workers, tourists and families alike. The quickness of food turnaround, together with it's click & collect operation (coming soon) caters well to the busy city worker. At the same time, the bustling atmosphere of the restaurant and the ability to customise your meal at the condiment station, together with it's affordable price point make it a fun experience for families, friends, students and tourists.
A number of pubs & bars surround the restaurant, meaning not only does it benefit from lunch time trade (such as workers popping out in their lunch break), but trade will also extend well into the evening.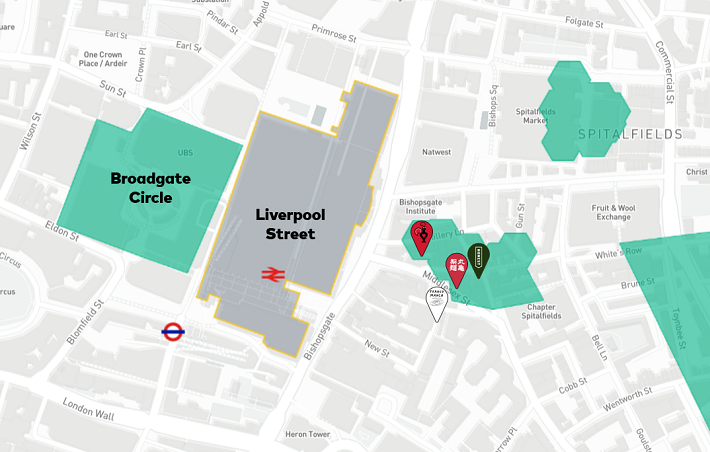 The concentration of restaurants in the area works well, with customers able to choose from a number of different cuisines in very close proximity. We also spotted another Japanese restaurant - Japanese Canteen - just 100m away. A quick comparison of menus shows that Marugame appears to be marginally cheaper (£6.45 vs £7.95 for Chicken Katsu) - prices at Marugame start from £3.45! It may be that this slightly cheaper price point, together with its more prominent location helps it to win more customers.
The menu offer between the two restaurants also differs, with Marugame focusing on udon & tempura, whilst Japanese Canteen has an extensive offer of sushi and even some Korean dishes on offer.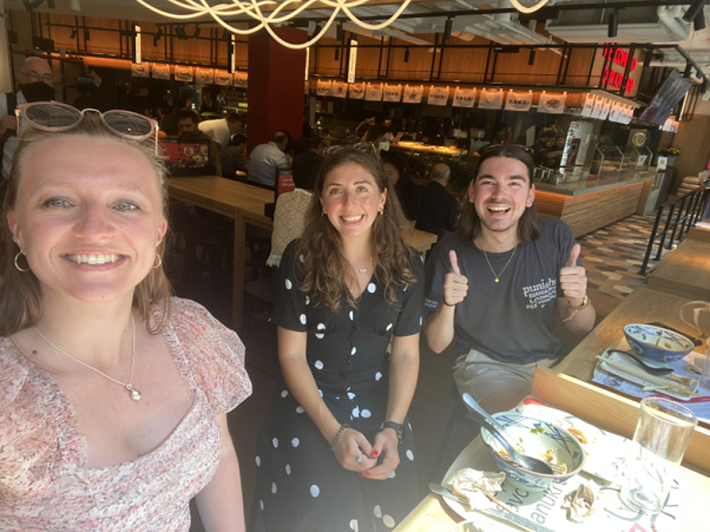 'Masters of Handmade Udon Noodles', they say 'Centuries of tradition [are] served fresh in every bowl'; a tradition which originally started in the Kagawa Prefecture in the southern part of Japan. What makes Marugame stand out from the crowd is that these noodles are made fresh every day - and with the open-plan kitchen, guests can see this happen as soon as they walk in.
Marugame Udon embraces the hustle and bustle of a traditional Japanese Udon kitchen; as you walk in the door you're hit not only with the aromas from the open kitchen, but also the life and soul of the chefs within. Grabbing a tray, you make your way along the kitchen, selecting your main dish, watching it being made fresh right before your eyes.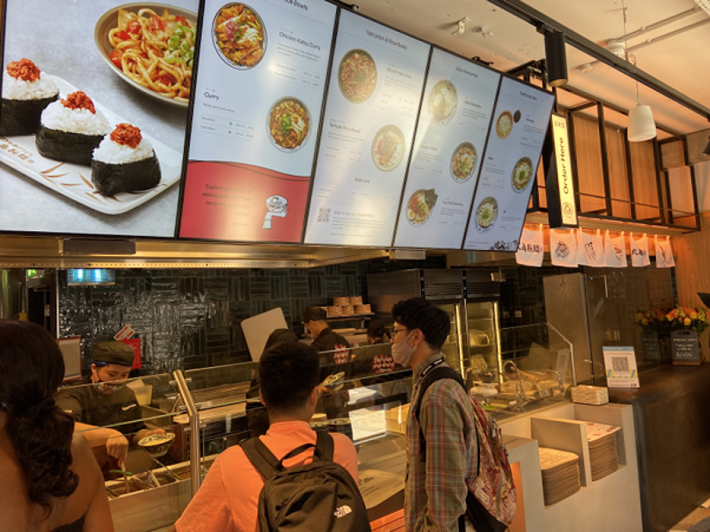 You then have the option to add on an array of Tempura and Omusubi, which are presented in the kitchen in a self-serve manner - you pick what takes your fancy! As seen in the image above, the menu is ideally located as soon as you walk in, with both dish descriptions and visuals helping you decide what to choose. Visualising the food - instead of simply writing it on a menu - is commonplace in Japan; typically restaurants will even display plastic or wax replicas in their windows. This acts as both an enticement as well as informant - showing patrons what is on offer inside (great if you don't speak the language). Speaking of language, the toilets at Marugame Udon teach you everyday Japanese phrases, so you can say Thank You in Japanese on your way out!
The last stop before taking your seat is the condiments and drinks station, where you can customise your dish with herbs, spices, sauces and additional toppings, such as spring onions. The team were incredibly attentive, ensuring that all surfaces were sanitised and wiped between customers.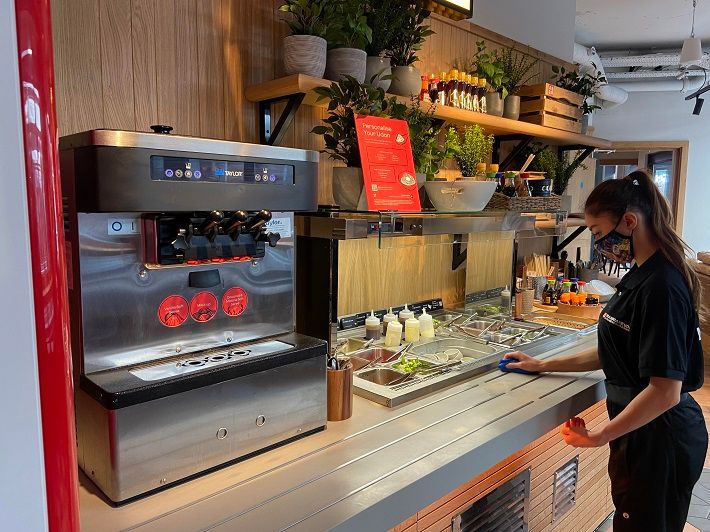 No expenses were spared when it came to the décor; as soon as you walk through the door, it's like you've walked through the wardrobe and into Narnia. This instant sense of place is great, as Marugame Udon is perfect for both quick bites to eat on your lunch break, or a slower-paced meal with friends and family. The restaurant layout accommodates this, with both individual and shared tables (split by moving sliders seen in the image above), seating solo diners and bigger parties.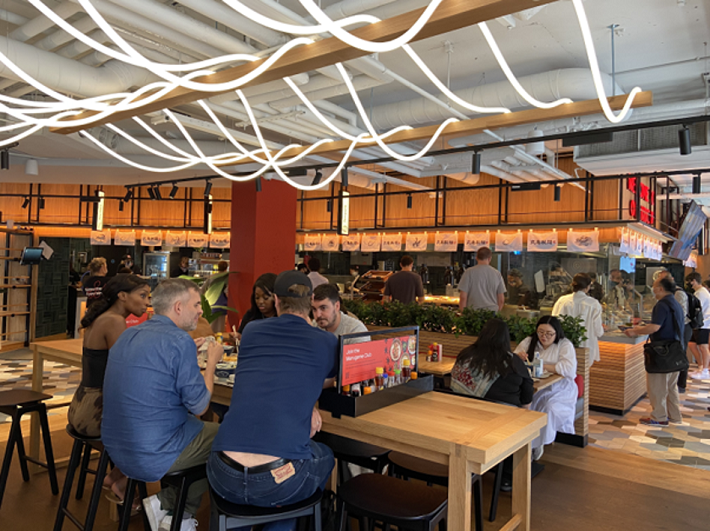 We opted for window seats - perhaps not the wisest idea during a heatwave - but it was lovely to watch people outside noticing the attention Marugame Udon was getting, becoming curious as to what was inside.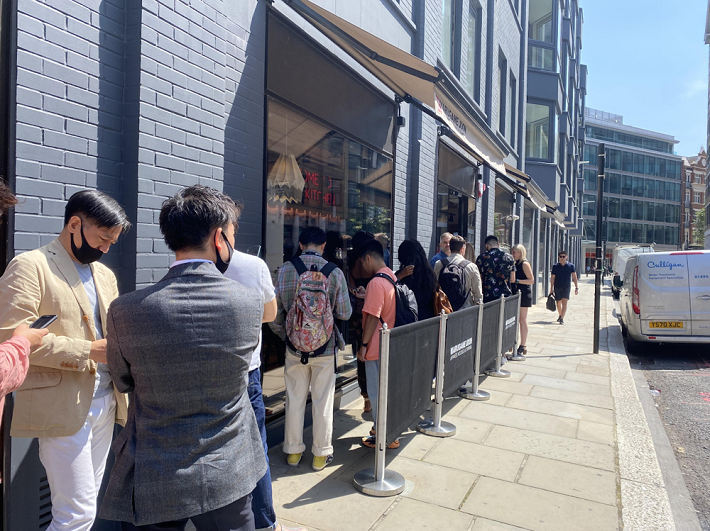 For Kate, the standout part of the experience was the care and professionalism taken when dealing with allergies - having a nut allergy herself, and experience in hospitality management, Kate is well versed in restaurant allergen protocol and the team at Marugame Udon went above and beyond to ensure not only was her dish nut free, but her nerves were settled too.
After being asked for allergens, the staff produced an Ipad with a filter feature, allowing Kate to filter all the dishes by the 13 main allergens; after 'pre-ordering' with the host, Kate was given her order on a purple post-it which she handed to the kitchen team over the counter. Everyone in the kitchen line was informed of the allergen, ensuring thorough hand washing and utensil changes to avoid cross-contamination. The open kitchen layout seen below certainly helped reassure Kate by visualising the whole process.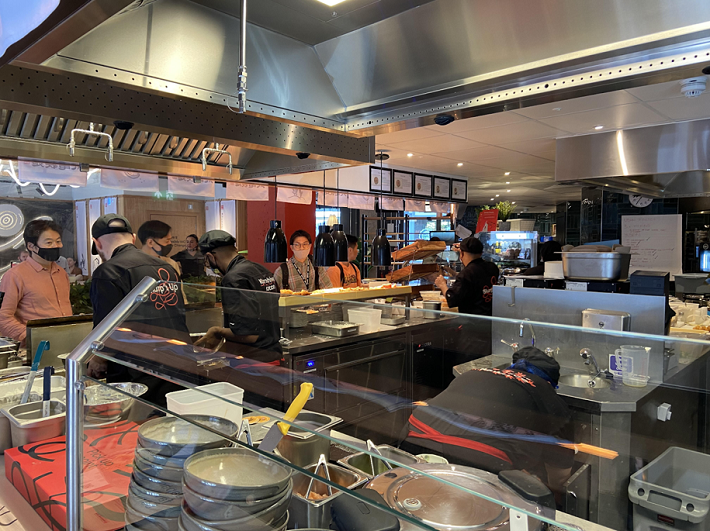 Additional steps were also taken; Kate was given a purple tray (instead of the usual cream) ensuring the kitchen team along the line was aware of the allergen, and a chef had her tempura and omusubi prepared and waiting.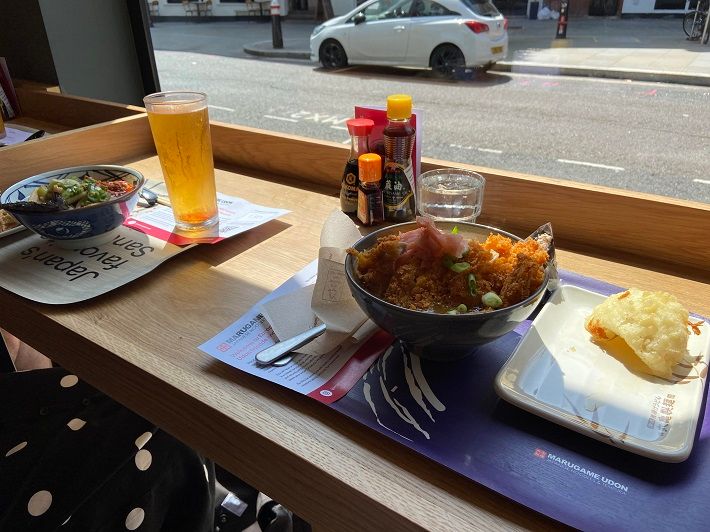 Anyone with allergies knows just how nerve-wracking heading out to a new restaurant can be; the team at Marugame Udon were well prepared and very professional without making Kate feel like she was holding people up - or being a hindrance.
Marugame Udon have already announced the opening of three other London stores:
Canary Wharf - Coming Autumn 2021
St. Christopher's Place - Coming Autumn 2021
The 02 Arena - Coming September 2021
The team at Marugame Udon have worked with Geolytix to help become more strategic in their approach. Using our GeoData and mobility data in MAPP, within a few clicks of a button they can bring up all the information they need in order to assess a potential location.
Sonia Traore at Marugame Udon said:
"Geolytix support has been amazing, and MAPP has been an invaluable tool to inform our site search".
We couldn't recommend Marugame Udon enough, and will definitely be visiting for an Udon bowl again soon!
Jasmin Fitzpatrick & Kate McGoldrick, Product Owner and Communications Officer at Geolytix
Photo's are Authors Own