The Future of Oxford Street: Strength to Strength or Fighting for Survival?
London's Oxford Street is one of the busiest shopping destinations in the world with a history stretching back well over 100 years.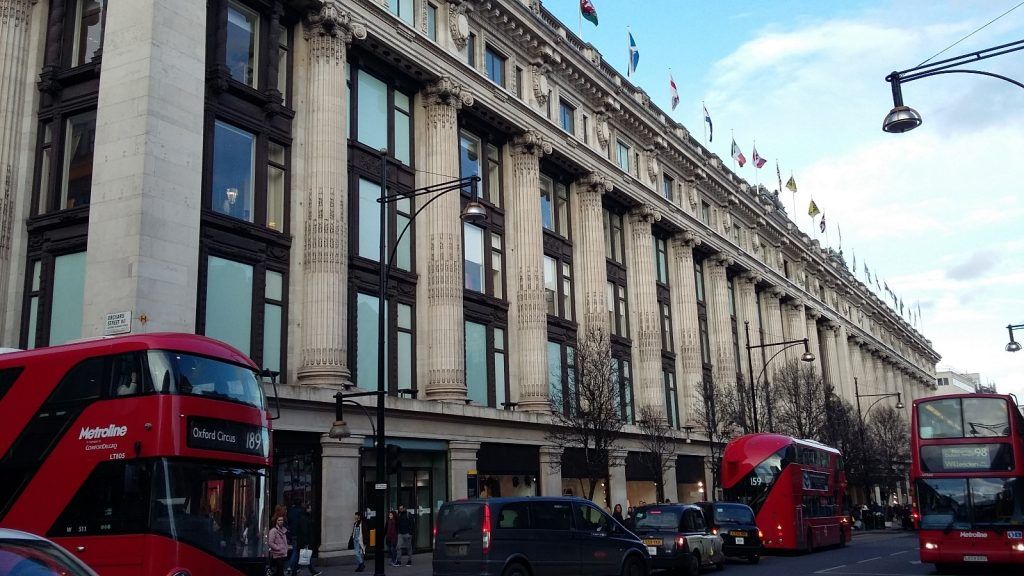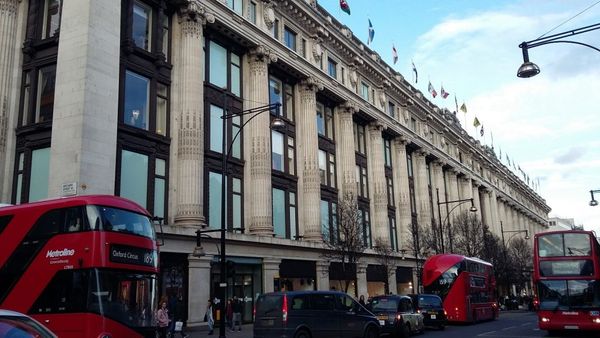 Drawing more than half a million visitors every day, the street is facing some major changes in the next 5 years from Crossrail and pedestrianisation. The question is whether these developments will be enough to keep Oxford Street as a world-class shopping destination in the face of changing consumer trends.
The West End generates ~3% of the UK's economic output. At its heart is Oxford Street, covering a 1.2 mile stretch from Marble Arch in the west to Tottenham Court Road in the east, attracting huge numbers of tourists, residents and workers alike. Due to its draw, Oxford Street and the surrounding area face challenges from overcrowding (both cars and pedestrians), leading to congestion and accidents, and from significant air and noise pollution, reducing the quality of the shopping environment. One of the proposed ways to solve these issues is through pedestrianisation.
Pedestrianisation
London's Mayor, Sadiq Khan, has proposed the pedestrianisation of a large stretch of Oxford Street from Tottenham Court Road to Bond Street. Restrictions on cars are already in place but buses and taxis are a constant presence. Making the street traffic-free would dramatically increase safety – 10/24 of Transport for London's (TfL) collision hotspots in 2014 were along Oxford Street – and reduce pollution, creating a more pleasant environment for shoppers. This is increasingly important as consumers have greater choice between both retailer destinations and online shopping.
London is home to a number of large one-stop shopping centres, notably Brent Cross and the two Westfield centres at Shepherd's Bush (White City) and Stratford which opened in 2008 and 2011. Brent Cross is currently being extended and a new Westfield centre in Croydon is being developed, both of which are due to open within 5 years. These centres are all indoors, offer a mix of retail, food and leisure and have large car parks, giving them a distinct advantage in convenience over traditional high streets. A pedestrianised Oxford Street should make it more attractive compared to these major centres.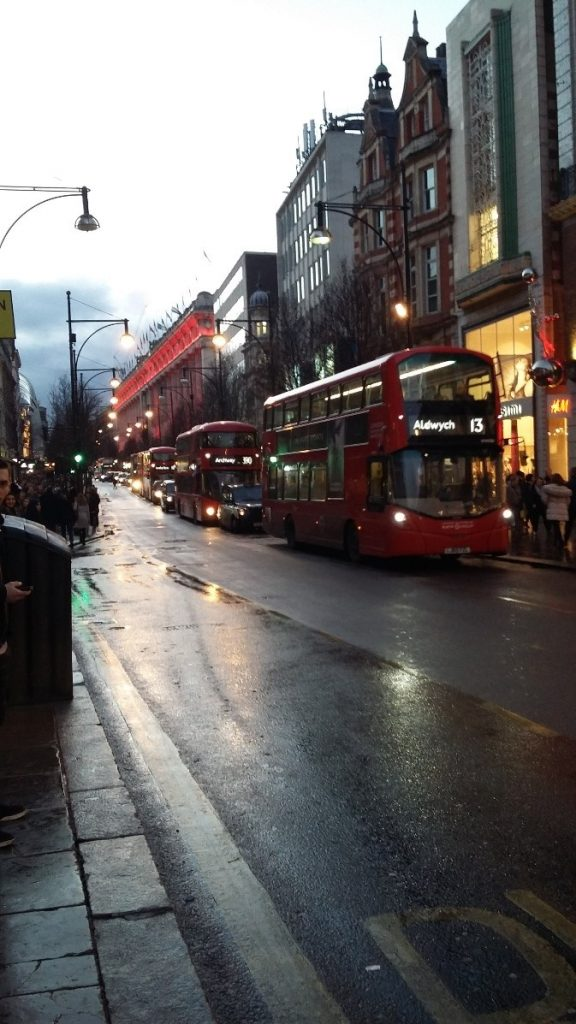 Last September, a decision was made to pedestrianise a 2 mile stretch of the Voie Georges-Pompidou in Paris, one of the city's busiest roads connecting east and west Paris after a 6-month trial. As Paris' deputy Mayor Christophe Najdovski is reported as saying in this article, "as we have seen with this type of project across the whole world, including places like New York and Rio, […] when an urban highway is transformed or closed, there is an evaporation of traffic. Either people modify their route, or they use their car less and take other forms of transport." Although the type of location in Paris varies from Oxford Street, it will be interesting to keep an eye on the longer-term impacts to see if anything can be learnt and applied to London, and whether the impact can be as smooth as Christophe Najdovski implies.
Pedestrianisation will also present many challenges. First and foremost, the 270 buses that run along Oxford Street every hour would have to run an alternate route, increasing congestion throughout the rest of the West End. The whole area is constantly busy, so moving the traffic off Oxford Street will potentially just shift the problem elsewhere. The impact to some businesses could be high, both on the street itself and through congestion in the surrounding area.
Careful consideration also needs to be given to those who are less able to travel along Oxford Street easily on foot, as direct accessibility via buses and taxis will be reduced. Some shops such as Selfridges do have their own car park, and therefore arguably may be less impacted by a reduction in public transport, but this is clearly not an option for everyone. Delivery vehicles will also be impacted, and therefore carefully planned alternate routes and access points will be key in resolving these accessibility issues.
Personally, I see the most interesting impact to retail being the barrier created from Bond Street to Marble Arch, the only section that would remain unpedestrianised. Apart from the obvious physical barrier of traffic, I expect there would also be a mental barrier beyond this point, with people choosing to end their shopping trips when they get to the end of the pedestrianisation zone; after all, all the big department stores and major retailers have at least one store in the planned pedestrianised area. It will be interesting to see whether stores such as the Primark by Marble Arch are a strong enough pull to keep this end of the street alive. Either way, it is almost certain that this section of the street will see an impact following pedestrianisation. That is, unless Crossrail saves the day…
Crossrail
Crossrail, or the Elizabeth Line, is Europe's largest current construction project and is due for completion in 2020. It will run from Reading and Heathrow in the west to Abbey Wood and Shenfield in the east and will vastly reduce journey times as well as increasing rail capacity in central London by 10%. Both Tottenham Court Road and Bond Street stations on Oxford Street will have a stop on the line.
The most obvious benefits are that central London's accessibility will improve for the millions of people living not just in greater London, but further afield too. Quicker journey times mean that Oxford Street will become more attractive to people who may have previously opted to visit alternative shopping destinations. For example, travel time from Heathrow to Bond Street will take 26 minutes, half the time of the current journey on the tube. Congestion will also be reduced at Oxford Circus, one of the busiest stations on the network.
Passenger numbers at the current Oxford Street tube stations have remained fairly constant over the last few years (see graph). Major falls and increases in passenger numbers are accountable to long term station improvements taking place, so Crossrail impacts should be clear to see once the line starts running through central London in December 2018.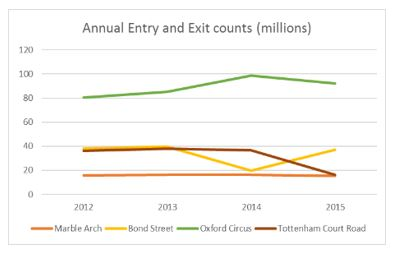 The New West End Company (NWEC) predict a sales increase of £1 billion by 2020 on Oxford Street and a 30% increase in visits as a result of Crossrail alone. TfL also predict that there could be a 50% increase in the number of passengers using Bond Street station, particularly good news for the far west side of Oxford Street if pedestrianisation goes ahead.
Future Challenges
If pedestrianisation is made a reality within the next few years and combined with the opening of Crossrail, Oxford Street is potentially looking at a huge boost in sales and visitor numbers. But will these two changes be enough? Removing traffic and increasing accessibility should make the area more attractive, but are not necessarily reasons enough when in competition with the likes of the Westfield centres and the new developments at Brent Cross and Croydon. Yet, Oxford Street is home to Selfridges and the flagships of many retailers such as John Lewis and Topshop, as well as neighbouring affluent Bond Street and Regent Street. It is strong location, brand presence and renowned global reputation that will continue to help the street retain its appeal in the face of an uncertain future. There is definitely still a place for the high street in retail, especially this one.
Of course, change does not come overnight, and it will be many years before the impacts of Crossrail and pedestrianisation can be assessed fully. Careful management of traffic dispersion through alternative routes as well as accessibility for different groups to ensure the area remains an inclusive space will be key in determining success. The street is still attractive to retailers with Polish chain Reserved! set to launch its first UK store in the old BHS space later this year; however, effort needs to be maintained in ensuring Oxford Street remains a strong and world-renowned retail destination.
With Crossrail, pedestrianisation and new developments on the way, only one thing is certain; big changes are coming. Watch this space!