I say quietly, it attracted a lot of attention and there were long queues, but this was still subdued given the latest lockdown restrictions. In many ways a softer launch is helpful. Customer numbers were limited to 25 which allows them to test the technology and iron out any operational concerns in a stable environment. Launching a new store is never without challenge, and when it's the first outside of the U.S., in a global pandemic, with the media spotlight firmly on, the stakes are raised. This isn't our first blog on the matter, Blair was fortunate enough to visit the original Seattle store back in 2016 (blog here).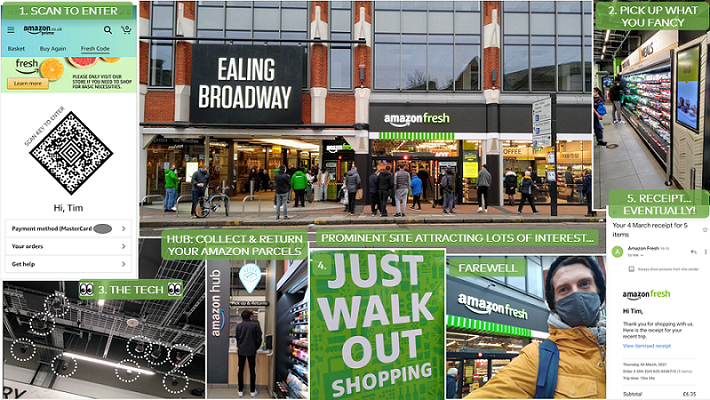 Ealing was an intelligent choice. It is a bustling retail place at the centre of a large, affluent residential catchment. Regardless of what happens in a post lockdown era, even after the opening of Crossrail, these residents will be visiting their workplace locations less frequently. This means more of their spend will be distributed into Ealing's shops and they aren't short on choice - fortunately for Amazon, one of their guiding principles is to 'obsess over the customer, not the competition'.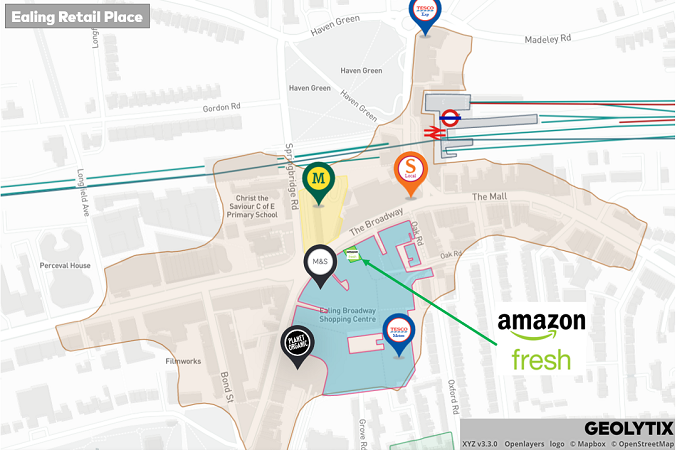 The battle for this 'share of stomach' spend extends beyond the grocery outlets highlighted above, which increased to five facias in 2020 following the opening of Planet Organic (who are now included in our open source Retail Points data set). Ealing also has a rich line up of quick service restaurant operators, casual dining offers and an abundance of coffee shops which collectively form a thriving ecosystem.
Not all choice is so visible, and Amazon weren't the first to reach for 'hyper-convenience'. In 2019 Ocado launched Zoom from a nearby warehouse (Ocado Zoom) giving residents the ability to order groceries from their phone and have them delivered in under 60 minutes. Not only can customers stay in their chair, they aren't so restricted by the limitations of shop size.  Fortunate it is then, that Ealing's population have high levels of internet engagement with over 90% coming from 'e-Professionals' and 'e-Veterans' according to the CDRC's Internet User Classification (IUC). This compares to a London average of just 35%. Both groups have a high propensity to shop for groceries online and that market has surged during the pandemic.
So much so that it has led to a frenzy of activity in the grocery delivery sector with companies such as Getir, Gorillas and Dija promising delivery in under 10-minutes. Dija was founded by two former Deliveroo executives and operate from three warehouses in London with plans for twenty more by the summer. Deliveroo itself, supposedly on the brink of collapse less than a year ago, is also making inroads into grocery delivery with six of the big supermarket chains already signed up to the platform. They didn't go bust thanks to a £575m investment from…Amazon, who now own 16.2%. If Deliveroo's IPO goes ahead later this year that stake could be worth more than £1bn.
Tech companies both large and small, with an appetite for disruption and a tiny share of the UK grocery market, are redefining the very definition of what it means to be convenient. These are the foundations which will go on to define the next era for how we buy groceries.
It is easy to get carried away; convenience stores are still hard to get right. There are five key interlocking ingredients which if mixed correctly will be crucial to Amazon's success:
Pricing - and ultimately margin
Range - the breadth & quality of the products sold
Operation Costs - fixed & variable
Build / Fitout Costs
Sales volume - last but certainly not least…turnover
As a 'nation of shopkeepers' we have a long history of selling things from convenient locations. The most recent phase has played out over the last quarter of a century with the dominant species (including the 'Big Four') all attempting to join the Cooperative on the convenience ecotone. They have a chequered record however and there are as many examples of failed attempts as success stories. Amazon's mantra for customer obsession should prevent them from repeating the mistakes made by their newfound competitors.
Tesco, followed by Sainsbury's, launched their respective convenience formats (<3k sqft) back in the mid-90's and it took many years of refinement before either established confidence in their recipe. Then, during the first 15 years of the 21stcentury they opened ~2,500 convenience stores between them (this excludes Tesco's acquisition of One Stop). Tesco Express typically went for secondary in-fill locations, convinced that their brand appeal (range & price) was enough to attract in the customers. Whilst this strategy did work, it left the door open for Sainsbury's Local to capitalise in the more prime locations, particularly in London, where they picked up dozens of top sites near key transport hubs. The additional sales volumes more than offsetting higher rents and in turn proving how valuable it was to be a conveniently located convenience store (how convenient!).
Morrisons entry with the M-Local format between 2010 and 2015 did not fare so well. They were playing catch up and rushed to build a pipeline of stores before knowing if the model was viable. Their strategy for lower prices and a larger fresh range meant higher sales volumes were required. This puts pressure on the site selection process which ultimately was their undoing – they selected too many secondary sites which were available rather than targeting the best option in each market. This approach was epitomised by the acquisition of ~50 Blockbuster units in 2013. Without the required sales volume it becomes difficult to manage the cost base; waste increases - particularly in short life 'fresh' ranges - gaps appear, staffing budgets are slashed & stores quickly turn anaemic.
Since the demise of M-Local, it has been the Cooperative who have led the way with new convenience shop openings. In the same period, they have also acquired NISA which represents one of several large merger and acquisitions plays in the sector. Meanwhile Tesco have directed attention to wholesale with their acquisition of Booker who supply to the likes of Premier, Londis & Budgens. Morrisons followed suit and have been building their wholesale credentials including partnerships with McColls and…Amazon.
Aldi, Lidl and Asda have all dipped their toe with more measured trials but there have been few signs to suggest any real confidence in convenience stores (the Issa brothers may well have plans for Asda). Even Aldi's Local format is typically three times larger than a standard convenience store.
Waitrose & M&S have had mixed success. Some excellent locations & high-quality ranges have proven the potential however both struggled to control costs and have relatively high price points. This means they are limited to prime, 'unicorn' sites targeting a narrow customer base. Ultimately, this has meant more closures than new openings in recent years. Trying to squeeze big shop offers into small units can add cost and reduce profitability. The in-store bakery, patisserie, hot food counter, (free) coffee & checkouts all add cost and complexity to the operation. The single biggest cost line (by some distance) for any convenience store, is staffing. It is therefore essential that their time is invested in only the most necessary tasks for the core customer experience.
It is this reason why the Amazon model is so significant. Not only is the 'Just Walk Out' technology seriously smart, emphasising their second core principle of a 'passion for invention', but it also makes commercial sense. Checkouts are expensive to install, maintain and operate. They are also a source of frustration in the customer journey. Between queueing, service, packing & paying too much can go wrong. Self-serve checkouts consistently seem to be an area of heightened frustration (not to mention viruses), even when they are working. A single member of staff trying to manage a dozen tills only fuels this - checking an ID, handing out bags, fixing issues and dealing with irritable customers. Their time is spent fighting fires and Amazon is saying these fires should not exist.
They have also become a concentrated point for theft, accidental or otherwise. So much so that my local store now points a camera directly into my face and replays the live feed back to me. If you were thinking about using the "banana trick" they at least want you to know that you're being watched…very closely. At least Amazon have the courtesy of hiding their labyrinth of cameras discreetly in the ceiling. Shrink & general stock loss is a big problem for the grocery industry and Amazon, in theory, will have a much better grasp.
Checkouts also take up space, and more than you might think. In the now closed M&S store in Covent Garden there was more space dedicated to food checkouts than the entire size of this Amazon Fresh unit. This means you're paying rent and rates for them whilst in turn reducing the range of products available to your customer.
Amazon's third guiding principle is 'commitment to operational excellence' and from my experience on the opening afternoon, it's hard to argue the operation was anything other than excellent. From the queue management, informed helpers guiding you through the entry process, to the well-stocked shelves and USP, the 'just walk out' technology.
So, what about potential weaknesses? Despite the lack of checkouts, the range is still limited by the size of the unit (2,500 sqft). There is little room for error here, every product must count, they don't have the luxury to experiment with peripheral, non-core ranges. This issue is heightened by the fact they are surrounded by three much larger offers. M&S to the west and the Tesco Metro at the back of the Ealing Broadway Shopping Centre have food ranges 6 or 7 times the size of Amazon. The Morrisons opposite well over 10 times.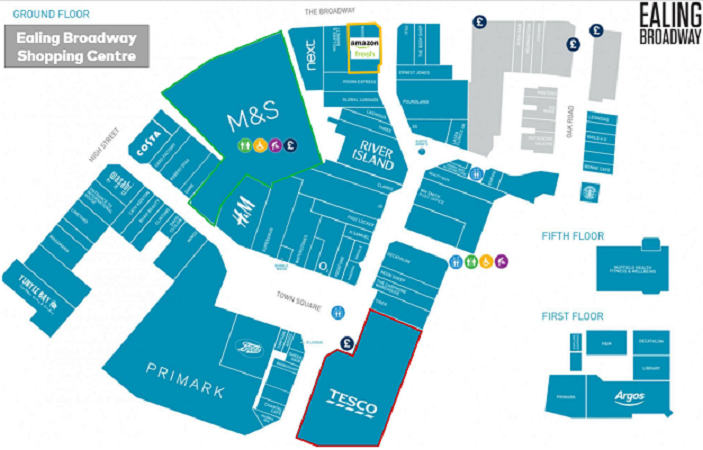 The other obvious issue is the sale of alcohol, currently you need to show someone your ID to get into a mini shop within an already small store. This is inefficient and a solution will be a top priority.
It's difficult to comment in any great detail on the quality of product or the price point but reports appear to be framing this as high quality at reasonable prices and my sandwich didn't disagree.
One slight surprise was the fit out. It's possible I've been spoilt by the excellent M&S concept food store in Clapham (M&S Clapham) but it still felt underwhelming. Maybe given Amazon's deep pockets I was expecting some sort of vanity project, but the signage, shelving and flooring were just like a hundred other convenience stores…and maybe that's the point? How much do customers really care about fancy signage, expensive flooring and bespoke shelving? Maybe this is the embodiment of Amazon's fourth and final core principle, 'a focus on long term thinking'. If they want to open a lot of these, they know not all locations will be as strong as Ealing. To make locations profitable where the sales potential is lower, they will need to control cost and that includes the fit-out. Maybe however, they aren't concerned about store level profit and this store is just one small part of a much bigger master plan.
It would be remiss not to finish with a comment on the specific location and to mention Amazon's (not so) secret ingredient. Originally I wanted to call this blog '99 problems but the pitch ain't one' but that had to change after falling drastically short of the required number of problems.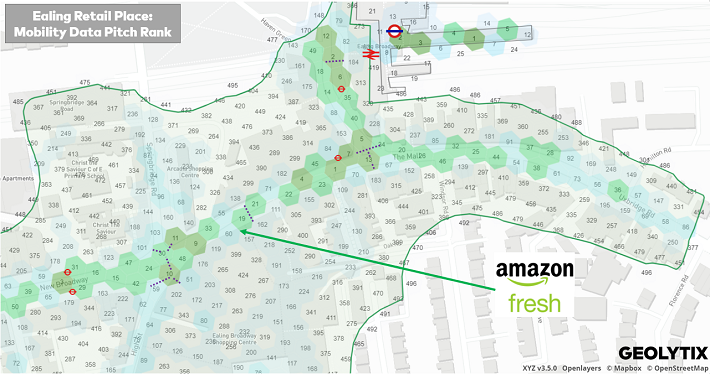 The pitch ain't bad though. The prominent external facing unit onto the busy Broadway means that 20k vehicles a day will see the shop - not that they need extra help with marketing. The unit will benefit from linked shopping trips to the Broadway Shopping Centre which has the benefit of parking. The site is however a 200m walk from the station and in convenience terms that is significant; the Sainsbury's Local is half that. In 2019, an average of 63k passengers used the station every day and whilst that figure is likely to be subdued in the medium term, it will still be significant driver of pitch. Does the time saved at the checkouts warrant walking that little bit further after a long day at work?
Ultimately it will come down to whether Amazon's mix of ingredients elevates them above the other options within this grocery jungle and they have one last secret ingredient. One of the reasons Tesco & Sainsbury's were so successful in convenience was their own obsession with the customer. Data harvested through the 'Clubcard' and 'Nectar' loyalty cards helped to shape strategy. Amazon's customer data will be close to perfect. Every customer must scan in, they will have a complete view of where a customer travels from, how frequently they visit, dwell-time, what products they buy and how much they spend. All in addition to what they already know about your existing non-grocery shopping behaviours. Will personal data concerns or Amazon's unwieldy dominance possibly derail their foray into the UK grocery market?
History suggests not.
Tim Pickworth, Associate at Geolytix